Daryl Lobban
Washington, D.C.
Director of Strategic Partnerships
Q: You recently became a father. How has the birth of your son impacted your outlook on the world?
A: Well, for starters, the birth of my son has altered and challenged my perception of sleep. I never knew that I could survive and be productive on 2-3 hrs of sleep. However, the birth of my son has brought me so much hope for the future. He allows me to dream and wonder that the world can be better. He has shown me that there is a future for the world, and I have been given an opportunity to help shape the future of the world by how I raise my son. Elijah's advent and his generation of peers afford us all an opportunity to make a conscious decision about what kind of world we are going to leave behind for them. I believe America is at a crucible, or in theological language a kairos moment, and every time I wake up and see his smiling face and jovial spirit, I realize that he deserves to live in a world unencumbered by racism, sexism, homophobia, or toxic polarization. I am filled with renewed hope and purpose to end toxic polarization, racism, sexism, homophobia, and gender-based violence so that Elijah and other children can be free to become their best selves.
I would be remiss to say that I am worried if the world will reciprocate the love my black boy shows. I recognize that he is going to be a tall (Inshallah), dark-skinned black boy, and I can not help but worry about how his blackness is going to be received by those who have not experienced the joy of his love. I worry about his interactions with law enforcement or the neighborhood watch. I wonder if he is going to be followed around the store like his father was, or are people going to clutch their bags as they see him walking down the street. I wonder if he is going to be asked countless times if he plays basketball or football and not if he is a neurosurgeon or attorney. This has been the reality of his 6'5, dark-skinned father and I desperately hope it will not be his experience. I choose hope so I don't wallow in despair because as jovial and happy as he appears to be, some will perceive it otherwise. I chose hope because hope is resistance and hope is an act of faith that this country and world can lean into.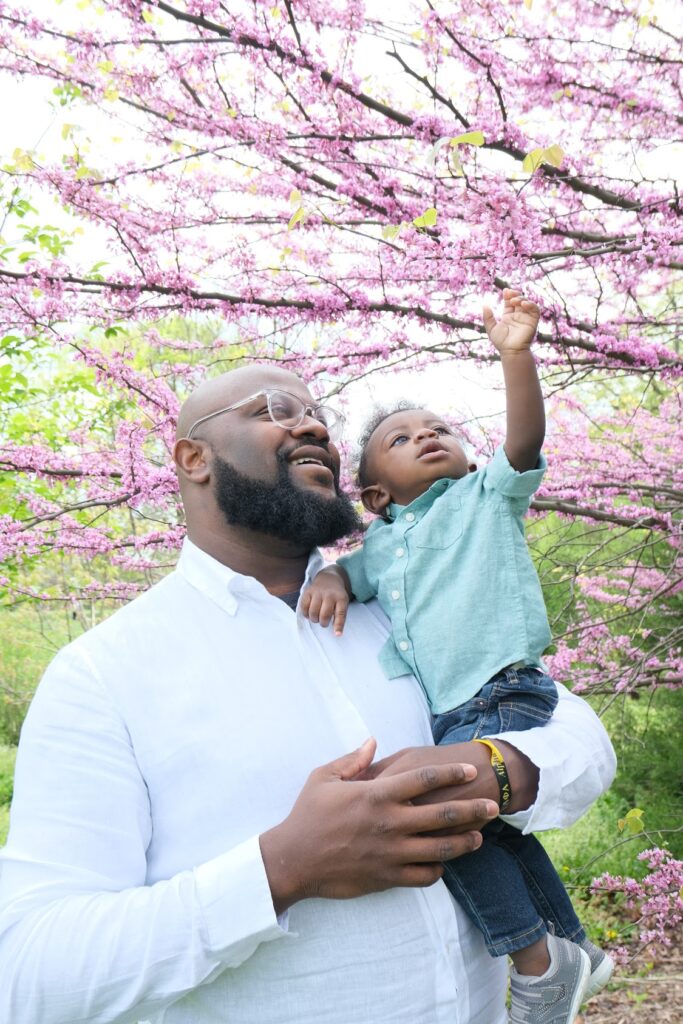 Q: You are a minister ordained in the Holiness-Pentecostal tradition but have served in a pastoral capacity for many different Christian denominations. Can you tell us a little bit about that experience?
A: It has been a wonderful experience. I have worked in over seven Christian denominations, including African Methodist Episcopal Church, United Church of Christ, Reformed Church in America, Episcopal Church USA, Pentecostal, Evangelical, and Baptist denominations. I have also worked for an ecumenical organization interfacing and advocating for 17 Christian & Orthodox denominations. It has been wonderful to see the many different traditions, cultures, and theological distinctions and the beauty in the different approaches to the Divine. Whether it was eating Armenian food at an Armenian Orthodox Church for Orthodox Christmas or spending a week in the middle of Vermont with the Religious Society of Friends (Quakers), being exposed to so many denominations and traditions has made me enjoy and appreciate diversity. Unfortunately, many believe that we have to believe the same things, worship the same way, and vote for the same party in order to be unified. But, that is just fantastical. My experience has shown me that we do not have to all believe the same things in order to be unified, we just have to share a common purpose. At the core of all the traditions I have had the honor of working with, there is an inherent longing for love, respect, dignity, and hope.
Q: What made you decide to join the One America Movement team?
A: I have been a fan of the One America Movement from a distance. Naturally, I am interested in any organization that is interested in changing and influencing the mores of society, and that is committed to bringing functional enemies together so that they may depart as friends. Our country is divided, and our common community problems are being exacerbated because we spend more time talking at and about each other and not enough time talking to each other. So, I joined the One America Movement staff to do my part in reducing and ending toxic polarization in our country.
Isaiah 61:4 is a special scripture to me as it recalls what are those empowered by God's spirit are called to do: "They shall build up the ancient ruins, they shall raise up the former devastations; they shall repair the ruined cities, the devastations of many generations."(NRSV) So while this is a great job, I feel that those engaged in this work to be apart of the healing of our nation functionally have a calling. There is so much that needs to be done if we remain committed to the common purpose to leave this world in a better state than when we arrived. This can only be accomplished if we talk to one another and engage in the hard work of making our enemies our friends- understanding that those who we deem are enemies are also children of God.