Q: You and your husband are from (and currently living in) the great state of Texas. Tell us what you love about the state the most?
Have you ever met a Texan who wasn't proud?! We were our own nation at one point, and we won't let anyone forget it. (I may or may not have just learned that, contrary to my seventh-grade Texas history teacher's curriculum, we actually cannot secede from the United States. Ahem.) There's something about the tenacity and independent spirit of those historic Texas beginnings that continues within us today. While I am considered a "natural-born" Texan on account of my family moving back to Texas when I was a baby, my husband is a sixth-generation Texan, and our son is seventh-generation after being born in San Antonio while we were stationed there. I've been told that isn't a thing in other states, but it's something we're very proud of here.
The only thing close to matching the pride of our state is our food. Y'all, we are serious when it comes to food and, because Texas is so huge, there's a ton of diversity based on the region. Our barbecue is mostly beef because of the strong cattle industry, and I would argue some of the best in the nation (don't come at me, vinegar sauce). Our Mexican food ranges from New Mexican influences out west, to puffy tacos in San Antonio, to an entirely new category called Tex-Mex, created in the Austin area. Houston and Dallas have incredible varieties of cuisine brought in by the diverse cultures of those larger populations, and you'd be hard-pressed to find a better time than a crawfish boil down along the coast. Any time we've been stationed away from Texas – which has been ten of the last 14 years – our trips home have been planned around seeing our family and eating at our favorite places. Like I said, we're serious about food.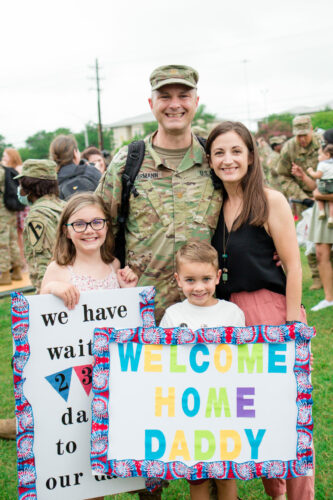 Q: In your time as a military spouse, you have volunteered in different capacities at each base at which your family has been stationed. Can you tell us a little more about the volunteer jobs that meant the most to you and what made you want to become a volunteer?
I cannot begin to express the value of volunteering, both as a volunteer and as one who has been impacted by such work. Like the civilian world, there are so many things in the military community that just wouldn't happen if it weren't for volunteers. From spouses' clubs to kids' sports teams to supporting the staff of the USO, volunteers are essential to so many things that enrich the lives of military members and their families.
While I have served on the board of two spouses' clubs specific to my husband's job, one of my favorite experiences was serving on the post-wide spouses' club board as the treasurer in Bamberg, Germany. We moved there after two years at another location in Germany, but this was a much different experience as the post was going to be closing at the end of one year. Because of the closing, many of the activities and offices began closing procedures shortly after we arrived, which meant that those of us assigned to stay until the end were left without many of the community-building opportunities we would normally have available. We decided that the spouses' club needed to lead the charge on creating those types of opportunities, and we went full force! We held monthly bingo nights and hosted bus trips to France, Poland, and other parts of Germany. We were small but mighty and made such fantastic memories even as our numbers dwindled as families were relocated. We truly created something wonderful from very little, and I think that's the magic of volunteering – it's all about what you put in.
Q: What made you decide to join the One America Movement team?
In the summer of 2016, we moved to Charlottesville, Virginia, as our next duty station. The following summer, our beautiful town experienced a horrific demonstration of hate and violence like nothing I ever thought I'd witness. While the events were heartbreaking, they gave me both a new perspective and a posture of learning and listening. Joining the team at One America has felt like a natural extension of that posture and allows me to share it with others. It is a joyful work, and I'm so honored to be a part of it!