We are
less divided than we think ready to get to work The One America Movement
The One America Movement

partners with faith communities across religious, political, and racial divides to confront toxic polarization in our society.
Toxic polarization divides communities, fuels violence, and makes progress on critical issues nearly impossible.
93% of Americans express a desire to see these divisions reduced.
"As a result of working with The One America Movement, I am better able to engage with people I disagree with about challenging issues, listen to and hear what they open up about, and share my experiences in a constructive and meaningful way."

 
Congregations Participating
Polarization is pointless,

and other lessons from the One America Movement: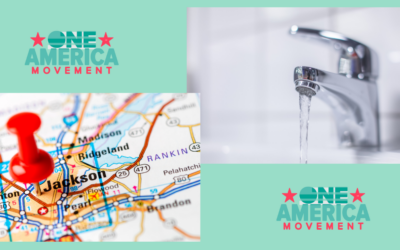 The water crisis of Jackson, MS, has revealed a deeper challenge for the community. One America Movement's Outreach Manager LeVettea Davis is actively working with Jackson's faith communities to help reach across divides and solve problems that matter.
read more
Join our email list
Stay in touch! Sign up for our email list and never miss a thing. We've got virtual events, resources to share, and good work being done all over the country. We would be thrilled for you to join us in our fight against toxic polarization.